Why You Need To Build a Network
Does it feel like your nightmare of a job search is never going to end?
Is everyone but you getting promoted and moving on to roles you desire?
Here's why...
When you see a job posting, you're already too late.
Chances are, the hiring manager already knew months in advance they needed to hire someone for that role.
And during that time, they already discovered their "preferred candidate". The job posting was just a formality.
Studies have shown, this shockingly happens 70-80% of the time.
So why build a network? So that YOU become the preferred candidate.
If your only strategy of finding your next dream job has been to endlessly launch your résumé to online job postings, you are seriously losing out on most of the jobs out there.
But that's all going to change with this course.
This Is NOT Networking...
Check out this message I received from this person's first-time connection request on LinkedIn.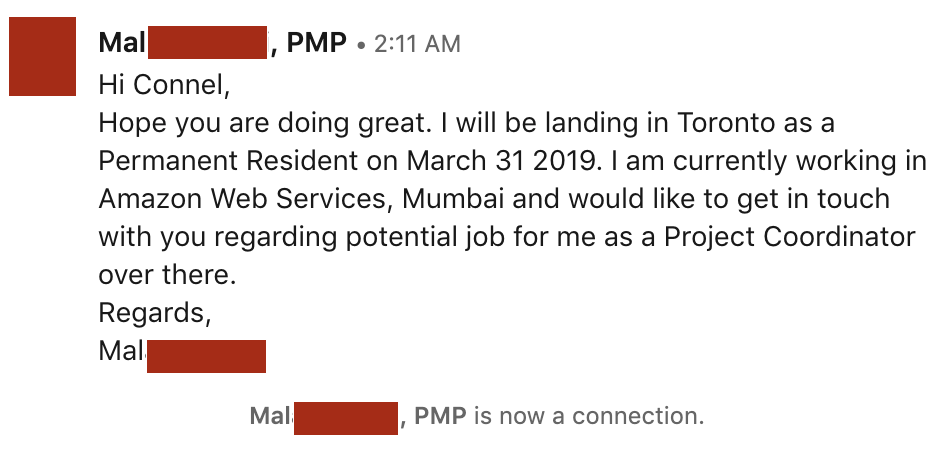 I don't know this person, never met him. Yet, he thinks it's appropriate to ask me for favours.
These types of messages get ignored - ALL THE TIME!
If this is how you have been reaching out to people, all that is going to change after this course, and you will see those job interviews flying in.
What You Will Learn From This Course
How to make reaching out to strangers super-easy yet effective, to build your professional network
How to convince your contacts to agree to meet with you, without being pushy
A step-by-step guide on how to conduct networking meetings. Your contacts will trust you with their network
How to expand you network 10X, with your contacts referring you to jobs your competition never heard of
Learn the tools that automatically manage your network, taking away the hard work of staying in touch with your contacts
This Course Is Ideal For You If...
You have been searching endlessly for a job, and not even getting interviews

You are moving to a new city/country and don't have a strong local network

You want to change careers and want to first learn how the industry is practiced
You want to move up internally in your current organization